Alan Stevenson House
16
7786708154
bedroom
5
https://cdn.tribalogic.net/uploads/45/1091157-alan-stevenson-house-1.jpg
Alan Stevenson House, Hynish Pier, Hynish, Isle Of Tiree, PA776UD
Scotland
United Kingdom
PA77 6UD
true
WiFi
Wireless Internet
true
Alan Stevenson House
Alan Stevenson House, Hynish Pier, Hynish, Isle Of Tiree, PA776UD
Alan Stevenson House at Hynish Pier Isle of Tiree
Sleeps 16 (Max)
5 Bedroom(s)
Bathroom(s) 7
Wifi
---
From £50 - £100 Nightly
About the property
Alan Stevenson House at Hynish Pier Isle of Tiree
Facilities
Linen provided
Bedding provided
Cot/ Travel cot
High chair
Dining area

Smoke Detectors

Carbon Monoxide Detector
TV
Board games / puzzles
Internet access
Free Wifi
Main door / Private entrance
Shared garden
Boat mooring
Patio / Decking
Garden dining furniture
Personal meet & greet available
Wood burning stove
Central heating
Pets allowed (fees may apply)
Bathroom(s)
Hen and stag
Adventure
Business
Beach holidays
Budget
Countryside
Family
Secluded
Groups
No smoking
Sleeping details
Tiree offers much to many – our part at Alan Stevenson House is to offer a warm welcome, excellent catered for Hostel Style facilities and a comfortable sleep so you can make the most of your stay on Tiree. Guests will have full use of the lounge communal areas and can dine with us for breakfast, lunch or dinner within the restaurant area. Booking is preferable.
RATES
These are bespoke and based on enquiry. The rooms we have as available are as below and prices are room only rates regardless of occupancy;

Lapwing- One bedroom that sleeps up to four people with ensuite Shower and WC £100 per night
Ringed Plover- One bedroom that sleep up to four people with private shower room and private WC £90 per night
Heron- One bedroom that sleeps up to four people with private shower and shared WC £90 per night
Fulmar and Oystercatcher- Two bedrooms, with bunk beds for two, en-suite shower and shared WC each at £50 per night
For further booking enquiry's please get in touch with Aisling or Kris. We would be happy to explore options. (All prices include electricity, hot water & all bed linen but not towels)
More
Availability
How to use this calendar
Select a valid check-in date
Select a valid check-out date
Select your party size to confirm the price for your stay
Click either 'Enquire now' or 'Book now' (both below this calendar) to proceed.
Note: 'Invalid choice' doesn't necessarily mean the property isn't available. Depending on the changeover rules - 'check in' or 'check out' days may be limited to certain days of the week only.
---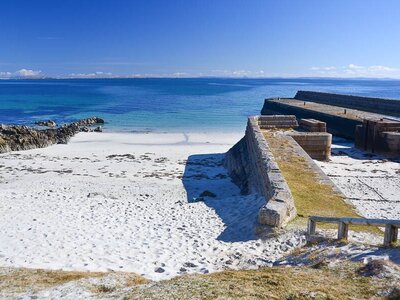 Enquire to book your stay at
Alan Stevenson House